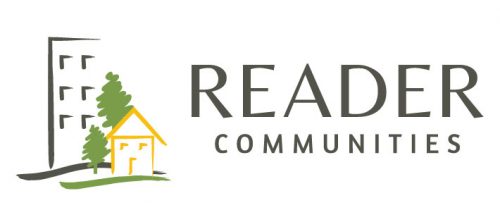 Master-planned community developer unveils new name, logo and website 
Orlando, Fla., April 4, 2018 — Reader Communities, the master-planned community developer formerly known as Reader & Partners, has rebranded and is actively seeking new development opportunities throughout the Southeast.
The new brand better reflects the company's focus on envisioning and developing outstanding, memorable residential communities that foster human connections. Since its founding by CEO Perry Reader in 2011, Reader Communities has developed over 3,500 residential lots valued at more than $200 million in communities across the Southeast. As part of its rebranding, Reader Communities has unveiled a new logo, marketing materials and website emphasizing its mission and values.
"Our new brand reflects our deep passion for developing exceptional communities that create value for our homeowners, builders and investment partners," said Dean Barberree, president of Reader Communities.
Reader Communities' principals have more than 100 years of combined experience in the acquisition, entitlement, development and disposition of mixed-use and residential land assets. The company has active communities totaling more than 2,400 acres in Florida, Kansas, North Carolina and South Carolina. Signature developments include Holding Village, a 257-acre master-planned community outside of Raleigh, N.C.; Midtown Mount Pleasant, a 110–acre mixed-use infill community outside of Charleston, S.C.; and The Village of Fenney, a 1,040-acre active adult community within The Villages in central Florida. Reader is the only real estate firm to have been selected as a third-party developer for The Villages, one of the premier active-adult retirement communities in the country.
With several of its communities nearing completion, Reader is seeking new development opportunities in the Southeast.
"We continue to see favorable trends in our core markets, and we're excited about the next phase of growth ahead for Reader Communities," Barberree said.
About Reader Communities
With offices in Orlando and Raleigh, Reader Communities is a master-planned community development firm specializing in the acquisition, entitlement, development and disposition of mixed-use and residential land assets. Reader Communities was founded in 2011 as a successor to the land division of Charlotte, N.C.-based Crosland. In over just six years, Reader Communities has developed more than 3,500 residential lots across the Southeast in both primary and active-adult communities totaling more than $200 million. Reader has actively managed land assets on behalf of a number of institutional funds and has provided advisory and consulting services nationally. The company's specific focus is to organize the structure and placement of the horizontal development program to maximize the vertical opportunities within each project. This allows for truly unique, successful projects that produce strong returns for Reader's builders, homeowners and investment partners.