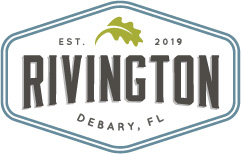 Joint venture purchases nearly 300 acres in DeBary for 700-unit planned community
Orlando, Fla., Dec. 9, 2019 — A joint venture between real estate investment and development firm Hillwood, a Perot company, and master-planned community developer Reader Communities has acquired just over 295 acres in DeBary, Fla., for a 700-unit master-planned community called Rivington.
Located at the southwest corner of Fort Florida and Barwick roads, Rivington will total approximately 600 single-family homes and 100 townhomes at completion, with resident amenities including a lakeside swim club and central neighborhood green space.  Homeowners at Rivington will also be able to enjoy nearby amenities such as River City Nature Park and Gemini Springs Park.
Adjacent to the St. Johns River, Rivington will offer a natural setting and Old Florida ambience less than a quarter mile from the DeBary SunRail station, with a community trail system connecting residents to the commuter rail service that extends through downtown Orlando. Rivington is adjacent to the City of DeBary's Transit Oriented Development District, which includes The Junction, a 68-acre mixed-use development with both residential and over 100,000 square feet of commercial space.
The first phase of development at Rivington began in December and will include 300 single-family homes and townhomes by builders Dream Finders Homes, K. Hovnanian Homes and M/I Homes. The community will feature a mix of conventional and alley-served homes starting in the low $200,000s, with townhomes approximately 1,500 square feet in size and single-family homes ranging up to approximately 3,000 square feet. The homes will be designed with aspects of traditional and contemporary architecture to reflect the heritage and future of the area.
Rivington is the first master-planned residential community by the Hillwood Communities and Reader Communities venture. The two firms recently announced a joint venture to acquire and develop residential projects with mixed-use land assets across the Southeast.
Hillwood, founded by Ross Perot, Jr., is one of the nation's top industrial, commercial, and residential real estate developers, active in 48 markets across the U.S. and Europe.  Through its Communities division, Hillwood has developed more than 29,000 single-family lots in 90 master-planned communities across 13 states and two countries. Hillwood Communities also invests with other best-in-class developers such as Reader Communities.  Reader Communities has developed numerous master planned communities throughout the Southeast, including The Village of Fenney, a 1,040-acre active adult community within The Villages in Central Florida.
"We're thrilled to have completed this first acquisition with Hillwood Communities and could not have found a better partner to expand our collective growth in Florida and the Southeast," said Dean Barberree, President of Reader Communities. "Rivington is just the beginning of this growth and will allow us to offer homebuyers a thoughtfully designed community in a phenomenal location walkable to the SunRail station and convenient to nearby Lake Mary and Sanford job centers, retail, restaurants and amenities."
Steve Costa, principal at NAI Realvest/Charles Wayne Commercial, represented the seller of the land, Empire Cattle, Ltd., on the transaction.
About Hillwood
Hillwood, a Perot company, is a premier commercial and residential real estate developer, investor and advisor of properties throughout North America and Europe. With a diverse portfolio of properties and home to many of the world's leading companies, Hillwood is committed to bringing long-term value to our customers, partners and the communities we serve.
Through its Communities division, Hillwood has delivered more than 29,000 single-family lots in 90 master-planned communities across 13 states and two countries. These communities continue to raise the bar in terms of quality, innovation, and the unmistakable sense of community that sets each property apart. In addition to owning and managing its own developments, Hillwood Communities also invests with other developers who have compatible philosophies and experience creating residential communities.  For more information, please visit www.hillwoodcommunities.com.
About Reader Communities
With offices in Orlando and Raleigh, Reader Communities is a master-planned community development firm specializing in the acquisition, entitlement, development and disposition of mixed-use and residential land assets. Reader Communities was founded in 2011 as a successor to the land division of Charlotte, N.C.-based Crosland. In over just eight years, Reader Communities has developed more than 7,500 residential lots across the Southeast in both primary and active-adult communities totaling more than $500 million. Reader has actively managed land assets on behalf of a number of institutional funds and has provided advisory and consulting services nationally. The company's specific focus is to organize the structure and placement of the horizontal development program to maximize the vertical opportunities within each project. For more information, please visit www.readercommunities.com.